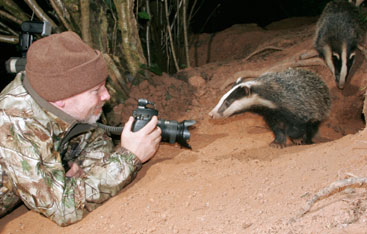 Born and brought up by the sea in Sussex, I spent my youth beach combing or walking along the South Downs. From an early age, I've been interested in the natural world and spent many hours rock pooling, snorkelling or just off walking. I've always been passionate about wildlife and wildlife photography.
My first camera was a Kodak Instamatic and as well as trying to take wildlife photos, I used a camera to make a photo diary. In my teens, I took up sport diving which led onto a profession as a commercial diver. This was the perfect job for me. I love the outdoors, the adventure and the risks, using a chain saw under water in zero visibility, helping to set explosives or diving under frigates in Portsmouth Navy base. I did   get the chance to do some underwater photography, although it was mostly oil pipelines on the North Sea.
From my diving, I had a career move into farming and studied farming and farm management at agricultural college. It was more like applied business studies and put me in good stead for my future in business. While at college, I started making rope halters for the college farm. I had picked up the rope-works skills while diving and this gave me the chance to earn some money while at college.
After leaving college, I worked on a farm milking a herd of Guernsey's and also started a rope business attending agricultural shows and supplying pet trade wholesalers with rope dog leads. The range of products increased including regular contracts from Westland Helicopters to make safety ropes for Sea King helicopters
I moved down to Devon in 89, married and had 2 daughters now in their teens. To them, it's always been a natural thing that their dad goes off early in the morning or at night with a giant rucksack.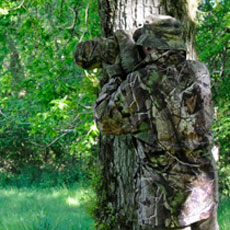 Through my varied careers, I've always had a camera with me and found time to get out and take pictures, usually hiding under old army surplus camouflage nets. I knew there should be something better for wildlife photographers to use and in 1992 I set up Wildlife Watching Supplies®. I'm always brimming with ideas and projects and the new company soon got a name for its designs and its range.
Over the 20 years, Wildlife Watching Supplies® has become a leading supplier of camouflage products. We now have a broad customer base. As well as wildlife photographers and film makers, we also supply the military and security forces.
These are exciting times and we have great plans for the future. To me, getting out in the woods or going down to the hide is a great way to relax. I spend many hours lying down in the woods, looking up to the stars, listening to the tawny owls and if I'm lucky the local badgers will come to visit.
I would highly recommend it.